Sarasota Chiropractor | Dr. Ryan Johnson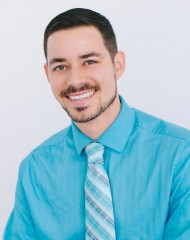 Dr. Johnson's goal is to help as many people as possible live longer, happier, and healthier lives without the use of drugs or surgery. He fell in love with chiropractic and holistic care at a young age. He majored in psychology and bio-medical sciences from the University of South Florida, in Tampa, Florida. He then attended Palmer college of Chiropractic in Port Orange, Florida.
Dr. Johnson is currently working on receiving his diplomate in functional neurology from the Carrick Institute in Orlando, Florida.
After graduating from Palmer in 2013 he decided to move to Sarasota, Florida to open his practice.
On a Personal Note…
Dr. Johnson loves living in sunny Sarasota with his beautiful wife and daughter. They have 2 dogs, a mini dachshund named Diesel and a Vizsla named Jade.
"In my spare time I enjoy maintaining a healthy lifestyle, working out, playing guitar and music with my friends, being outside, and spending time with my wife, daughter, and dogs."
Education
B.A., Psychology – University of South Florida – 2006-2009 – Magna Cum Laude
Doctor of Chiropractic – Palmer College of Chiropractic Florida – 2010-2013 – Cum Laude
Diplomate of American Chiropractic Neurology board (in progress)
Carrick Institute – 2011-Current
Achievements
Class of 2013 Salutatorian
Palmer Class President 2010
Gonstead Club Vice President – 2011
Clinic service award – Palmer Florida clinic
Passed National Board of Chiropractic Examiners parts I, II, III, IV, & Physiotherapy
"Thanks for visiting our site. I look forward to meeting you in person and learning how we may be of service to you. Give our office a call, or email me using the link below and let's arrange a time to explore your options."